По результатам трехдневного тестирования моей новой клавиатуры MS Surface Ergonomic Keyboard.
Кратко — я в восторге! Соединение по Bluetooth никак не тормозит и не дает никаких сбоев (правда, у меня BT-адаптер воткнут в USB-хаб, расположенный буквально в 20 сантиметрах от клавиатуры). К ходу клавиш привык очень быстро и ход очень нравится, особенно на функциональных клавишах (у предыдущих MS Sculpt функционалки были совсем маленькие и ход там был слишком короткий, что раздражало). Полная раскладка по амерканскому стандарту — рулез форева, я только на такой и могу нормально работать. Дополнительные клавиши над цифровой частью — нелишние, особенно калькулятор и блокировщик компьютера. Ну и искусственная замша под запястьями — просто класс!
Microsoft представила клавиатуры Surface Keyboard и мышь Surface Mouse
Вместе с ноутбуком Surface Book i7 и моноблоком Surface Studio компания Microsoft представила и более доступные продукты: беспроводные клавиатуры Surface Ergonomic Keyboard и Surface Keyboard. Как ясно из названия, производитель позиционирует их для владельцев устройств семейства Surface, но никто не мешает использовать устройства и с другими ПК.
Первая модель дороже и, по мнению Microsoft, благодаря своей форме снижает нагрузку на кисти пользователя. Вторая клавиатура гораздо компактнее и не выделяется никакими эргономическими особенностями.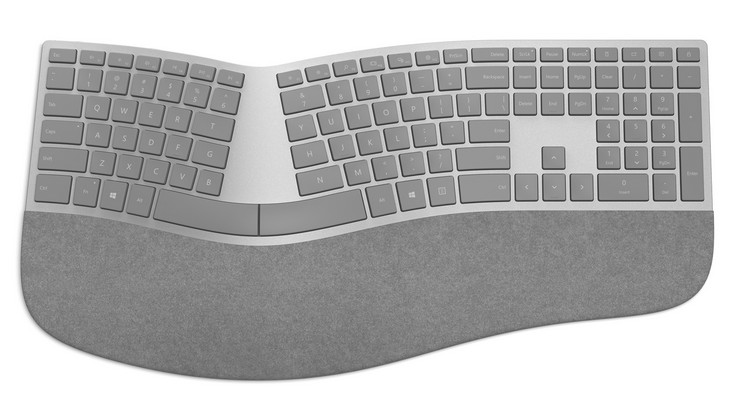 Модель Surface Ergonomic Keyboard оценивается в $130. Кроме своей формы она также может похвастаться тем, что подставка для рук у неё обшита алькантарой. Размеры устройства составляют 460 х 229 х 35 мм при массе 1 кг. На самом же деле Surface Ergonomic Keyboard, по сути, является аналогом клавиатуры Sculpt Ergonomic Keyboard, которая даже в комплекте с мышкой стоит на $30 меньше.

Surface Keyboard оценивается в $100. Тут нет алькантары, а размеры равны 421 х 113 х 19 мм при массе 419 г.
Также ассортимент Microsoft пополнила беспроводная мышь Surface Mouse стоимостью $50. Все три устройства питаются от двух элементов формата AAA, которые должны обеспечить до 12 месяцев автономной работы.
• Designed for productivity and advanced comfort • Natural arc and slope • Palm rest covered in stunning two-tone grey mélange Alcantara • Bluetooth 4.0
For special business and EDU institute pricing, call us on (+44) 0800 026 0061, Monday to Friday, 9:00 a.m. to 6:00 p.m.
We're expanding our pick-up-in-store service to include more Microsoft Store locations every day.
Note: In-store availability subject to change without notice.
Sorry – the service is unavailable. Please try again later.
Unfortunately, we found no Microsoft Store locations within 100 miles, but we can always send items to you.
Protect your hands and wrists
Intersection of design and functionality
Carefully crafted experience
Tech specs
Wireless Technology
Wireless platform: Bluetooth 4.0/4.1 Low Energy
Wireless frequency: 2.400 MHz–2483.5 MHz
Wireless range: Up to 32 feet (10 metres)
Compatibility and localisation
Interface: Bluetooth Low Energy compatible 4.0/4.1
Operating system: Windows 10: Works with Bluetooth Smart Ready devices with Human Interface Device (HID) support
Top-line system requirements: Requires a PC that meets the requirements for, and has, Windows 10
Product feature performance
QWERTY key life: 10,000,000 actuations per key
Hot key life: 500,000 actuations per key
Encryption features: 128 bit AES (Advanced Encryption Standard)
Power requirements
Battery type and quantity: 2 pre-installed AAA alkaline batteries (included)
Battery life: Up to 12 months
Dimensions
Length: 18.11 in (460.14 mm)
Width: 9.02 in (229.22 mm)
Depth/height: 1.36 in (34.73 mm)
Weight: 2.23 lb (1.01 kg) with batteries; battery weight may vary
Warranty
1 year
3.7 5 12 ratings
To rate and review, sign in.
Showing 1-10 out of 11 reviews
Reviewed By nenslo
4 5 User Rating: 4 out of 5
Review title of nenslo Works generally well for me on MacOS
I had the Sculpt before I purchased this, so I was really pleased to see the Surface Ergonomic keyboard come out in UK layout. For the most part it works well, my MBA (macOS 10.12.3) saw it as a keyboard and connected. The Windows key is mapped to the CMD key so that's fine and the numpad also works fine. The only things that does not work for me are the Home/End PgUp/PgDn keys, which I rarely use anyway.
Reviewed By Sonjeet
4 5 User Rating: 4 out of 5
Review title of Sonjeet Keyboard Spec Is Misleading
Keyboard is very well built and responsive. As a software developer my work can often take me into the night hence I desired a backlit keyboard. The spec mentioned it has backlight functionalities: «Hot key features: Settings, Backlight+, Backlight-. » however once I purchased the keyboard these 'backlight' buttons were only used for the brightness of your monitor so I'm quite disappointed with that. Even more disappointing considering that I talked with a MS 'Expert' about this matter and she confirmed that there was a backlighting functionality for the keyboard.
Reviewed By Martin
5 5 User Rating: 5 out of 5
Review title of Martin Beautiful Keyboard
What a beautiful keyboard! I had the Sculpt, but the cut-out made it slightly flexible. This one is rock solid. It paired immediately. Took less than 5 minutes to unbox and begin using (it would have been less if I could just learn to read the supplied instructions BEFORE I start using anything, but at least I realise I should read them sooner these days). Other than pairing, no other setting up is required. The Sculpt used a dongle and was wifi, which was problematic with all the other wifi stuff I have (plus it had that annoying separate number pad). This is Bluetooth. I love the feel of the keys. They're very similar to those on my Surface Book 2. Much less risk of dust getting underneath than with a standard keyboard. They have a positive action without being stiff. It's a shame there is no backlight (I knew that before I purchased). Yes, it is slightly different to a standard keyboard, but nothing that can't be gotten used to. Highly recommended.
Reviewed By Simon
5 5 User Rating: 5 out of 5
Review title of Simon Great keyboard, worth every penny.
I got this keyboard because I've started to feel strain from working long hours, it was the right choice. The build quality is amazing, the keys feel great and the fabric wrist support is very comfortable. I really like this keyboard, I have quite a collection of keyboards and mice that I've bought over the years, but this one beats them all.
Reviewed By Robert
5 5 User Rating: 5 out of 5
Review title of Robert Step up on the sculpt
Lovely keyboard, I used the ergo sculpt before so this one is a step up. The Ergo I had before died when the transmitter failed. trying to get a replacement from Microsoft under warranty was a chore and in the end I gave up and binned it.
Reviewed By Darren
3 5 User Rating: 3 out of 5
Review title of Darren Why no wired version?
It looks nice but why is there no wired version? Changing batteries is a chore and how would this work if we need to change BIOS settings? Would most BIOS support blue-tooth keyboard?
Reviewed By Adrian
5 5 User Rating: 5 out of 5
Review title of Adrian Luxury Keyboard
Got this keyboard a few days ago and I am impressed. It's my first ergonomic one so will take some getting used to, but it looks and feels luxurious. The wrist rest is comfortable and the keys have a good amount of travel when typing. I'm using this with my iMac and it works perfectly with it. Some things are in different places, but with a little trial and error, I've found how to do most things. Helpful tip – the '@' sign is to be found by pressing 'shift 2' (the same place as on the Apple keyboard) even though the ergonomic keyboard has indicated it to be elsewhere!). I've not experienced any loss of connection between the keyboard and the computer, as some other people say they have. Would highly recommend this.
Reviewed By Vernon
4 5 User Rating: 4 out of 5
Review title of Vernon Righting some wrongs
A step back in the right direction, Microsoft! I never review anything, but I thought I'd say they're back in the black with this one. To anyone hoping to regain a sense of normality after the horrifyingly-bad Sculpt series, this one is a keeper. Pro's: 1. Far better key-travel. 2. The key-layout is normal again (except the numlock. But you can't have everything I guess). 3. Gone are the cheap calculator-style Escape and function keys (and also banished is the F-Key/Function switch). 4. It has a number-pad again. Whomever separated it into a tacky, no-good paperweight that only dropped connection all of the time in the Sculpt series, deserves a dark back-office without a window. 5. It finally uses Bluetooth (No dongle that you have to treat like the antenna on a shortwave radio when your mobile/router is close). Note on minor Cons: (a) Bluetooth power-saving means sometimes your first few words are missing if you don't use it for a while and (b) the Carriage Return key is squashed
Reviewed By zingari
5 5 User Rating: 5 out of 5
Review title of zingari great product, premium quality
Does exactly what it says and is a great premium product. Frankly who cares about compatibility with macs. This keyboard works great with Surface Pro.
Reviewed By Nikol
1 5 User Rating: 1 out of 5
Review title of Nikol terrible. keys either are lost of duplicate
Have changed the batteries half a dozen times.. but the keyboard still is either super slow or duplicates keys 5 times.